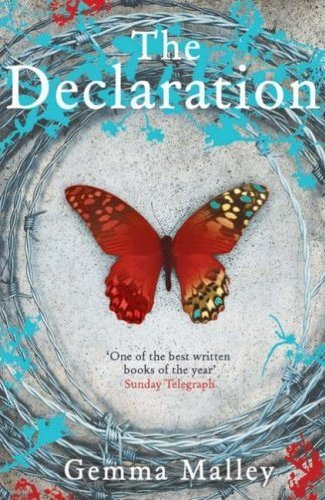 The Declaration - Gemma Malley
(First published at the wonderful Chicklish: http://keris.typepad.com/chicklet/2009/05/review-the-declaration-by-gemma-malley.html).
The first thing I have to mention about The Declaration is the beautiful cover art. I know, it isn't as important as the story inside but first impressions count and it really drew me towards the book. It just goes to show, a little bit of glitter and a pretty butterfly go a long way.
Anna is a fifteen-year-old girl, living in an Orwellian children's home, known as Grange Hall, where day to day life is dictated by the cruel Mrs Pincent and she has no option to speak or even have an opinion of her own. She does what she is told and prepares herself for life outside Grange Hall, where she will perhaps become somebody's house keeper, if she's extremely lucky.
Anna's only solace is the diary she hides in the girls' bathroom. The diary is her chance to escape from the monotony of Grange Hall and the only place where she can express her thoughts and feelings. For years Anna obeyed Grange Hall's rules and was a good surplus (the name of a child born illegally into the world) but lately she has realised there's more to life than Grange Hall and she wants to experience it.
A mysterious boy, Peter, is brought to Grange Hall one night and it is at this point that everything changes for Anna. Peter begins to refer to her by her full name, Anna Covey, and tells her that her parents love her. This is something incomprehensible for Anna. For years she has been taught to hate her parents, that it is their fault she is at Grange Hall and, at first, she simply cannot believe that they would love her.
However, as Peter and Anna's relationship begins to develop, so does her belief that maybe he is telling the truth, maybe her parents do love her. Maybe she doesn't belong at Grange Hall after all.
The Declaration is primarily a story of self-discovery but it is also a love story and it is the relationship between the two protagonists that made the book so enjoyable. There is something sweetly innocent about Anna and Peter's relationship in a society where love and friendship have been replaced with rules and beatings.
The book is a little long for younger readers and some of the material is quite mature. Older teens would love the complexity of the story and I think some younger teens would enjoy it too, though perhaps on a different level.
There's a lot to get out of reading The Declaration and I had to read it twice to fully understand everything, as there is a lot going on. The story is full of plot twists, the greatest being Mrs Pincent's back story, which is brilliantly told and changed everything I thought I knew about Grange Hall's sinister leader.
The Declaration is a fast paced, well written read and I would highly recommend it for teen readers. The story is extremely original and I completely agree with Publishing News' review on the back cover that sums up the book much better than I ever could:
'Sharing the visionary quality of books such as The Handmaid's Tale and How I Love Now, this intensely moving debut is one of those rare books that changes the way you see the world.'
3.5/5